TCO: $3885
Miles: 7601
$/mi: $0.51
Status
View the Good and Bad Highlights...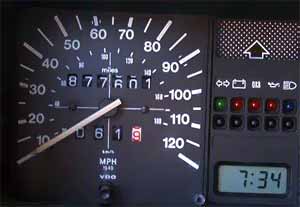 May
May 11, 2005 - Still drivin'

I uncovered my Cabriolet and started driving it for the year last week. It started fine after I jiggled the battery ground wire. The last I had driven it was on an unseasonably warm New Year's Day, and I had not driven it regularly since I went traveling in mid-October. It looks like I have a coolant leak to complement the slow power steering leak. My new top latch arrived on Monday, and it seems to fit better than the last replacement (so it probably won't break this time). Hopefully changing the oil to 50 will cut down on the smoking. Regardless of any issues, it's a blast to drive and I love it. Perhaps average people don't understand, but I think a lot of VW fans do understand.
March
March 21, 2004 - Beginning of Spring

I started driving my Cabriolet again yesterday. The circumstances were less than perfect; someone shot out the rear window of the Aerostar I have been driving all winter. The weather in the high 40s felt pretty warm as I took the cover off the car. I was pleasantly surprised when it started on the very first try. :) I drove around to warm up the engine and did a little maintenance: oil change, oil filter change, air filter change, and tire rotation. I even drove with the top down for a while. Yes, I was wearing my winter coat at the time.

I did a little more investigation on new rims and tires. Basically I'm looking for something that will let me corner faster without squealing all the time. Right now I have the stock rims and tires that I think are actually taller than they are supposed to be. If I understand correctly, 15" rims with 195/50 tires would be a good fit for my car; the outside diameter would be the same, but the shorter sidewalls and increased road contact would really improve cornering.

Through a combination of looking at tires.com and tirerack.com, I have made a tentative wishlist:

195/50R-15 82V BSW Yokohama AVS ES100
15X6.5 4-100 40BR Konig Helium HE65D04408

I don't know what I think of the bronze rim color, but I like that they are very light: just 10.8 lbs. If anybody reading this has advice on this subject, please tell me via the feedback form.
February
February 25, 2004 - Still alive

It's been forever since I've updated this site, but I *am* still alive. Right now it's winter in Michigan, so the car is sitting under its cover waiting for things to warm up. I'm planning to start it up in late March and get it ready to drive back to college in April.

I didn't get to drive it much last year because I was in Germany for three months in the spring. Then I had problems in late summer with a bad ignition coil and a broken convertible top latch. I have replaced both of those, so I am expecting good things for this year. Maybe I will even get some new rims.
---
Work needed
New water pump
New engine mount(s)?
New paint job
Plastic shelf over firewall (is broken)
Third brakelight (lens is cracked)
Washer fluid hose - pressure is low
Continue reading status from 2002...
---
[cabriolet.sickmiller.com]
[The Story|Status|Feedback]