The Story
Continue to Part 2...
For several months, I have been interested in VW Cabriolets. My friend, David, drove one over the summer. It looked fun, especially in comparison to my Ford Aerostar. I almost bought one off Ebay in September, but I lost the auction with 5 seconds remaining. In October I started attending
Kettering University
, and that took up much of my time. I thought I wouldn't seriously look at getting a car until after the term ended in December.
I visited autotrader.com about once a week to see if there were any Cabriolets for sale in my area. There were always a few for $4-5000, along with occasional ones for $300 that needed engines. I spotted one in November that was listed at $950. The description was very short, so I e-mailed the seller to find out more. He informed me that he had just listed it on Ebay. It didn't start, although he suspected it was something simple. The auction was started at $100 with no reserve. This was very tempting, even though I hadn't been planning to buy one yet.
Here's the first e-mail I received from the previous owner:

David I Bought The Cabriolet about 2 weeks ago to help
out a friend It had been Spray Painted Black over The
origional White and the interior is very Dirty.And
shows No signs Of rust .Body Is very straight And The
car Drove Really well. Engine Ran Very Good.I drove it
home and parked it in my Garage .Yesterday I went Out
To move It and it would not start.Probably something
simple But I am not a Foreign car Mechanic.If you are
intersted in the car I Just listed it on ebay. High
Bidder Will Own the car no matter What it Brings.I
live In Union City Michigan so you are not far
away.You can find the car under Search By seller Then
enter  xxxxxxxxx@aol.com  Good Luck I hope You Get a
Steal of a deal. Car has lots of Potential Bob R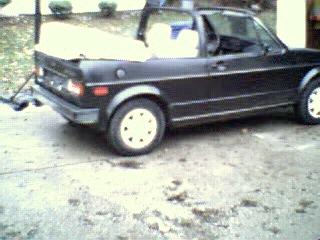 I checked out the auction, it was around $150 with 2 days left. I watched it heavily over the next 2 days as it rose to $300. With less than 5 minutes left, I decided to bid on it. With my maximum bid of $500, I was able to narrowly survive the last-minute snipers and win the auction for $462.99. At this point, all I had seen of the car was this picture posted on Ebay.
Having won the auction the next problem was to get the car, which was located 60 miles from my home. Since it wouldn't start, it wasn't going to be too easy.
Continue to Part 2...
Please tell me what you think at the
feedback page
.
---
[cabriolet.sickmiller.com]
[The Story|Status|Feedback]